Goed nieuws voor fans van Wat Beren Leren! Er komt een heuse film op Cartoon Network over de drie populaire beren: Wat Beren Leren: De Film. Deze splinternieuwe film gaat zaterdag 28 november 2020 om 9:50 uur in première op Cartoon Network.
Het verhaal in het kort:
De wereld van Grizz, Panda en IJsbeer staat op zijn kop wanneer Trout, een inspecteur van de Dienst natuur- en faunabeheer, korte metten maakt met hun berenstreken. De beren vluchten naar Canada.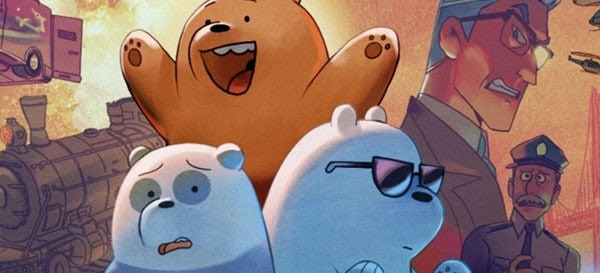 Voor wie meer wil weten over de achtergrond van deze film, en sowieso van de drie beren Grizz, Panda en IJsbeer, zijn er een aantal leuke vragen beantwoord door de maker van de film en de serie: Daniel Chong.
De vragen (Q van question) en de antwoorden van Daniel Chong (DC) zijn in het Engels. Wanneer je ze in het Nederlands wilt, is het geheel eenvoudig te vertalen via Google Translate.
Q: Going back to the beginning, how did you come up with the idea for the series?
DC: It just started out with a doodle. I was in a library with my girlfriend's seven-year-old niece and I was trying to make her laugh. Without really thinking, these three bears came out and she found them hilarious! It was always a grizzly bear, a panda bear and a polar bear. Right away, I drew them on top of each other in a stack. It was very intuitive, a random goofy thing and it's crazy to see what is has become.
Q: Why did you choose bears to be your main characters?
DC: It's a funny visual, bears look very anthropomorphic when they stand up. They can act like humans in some funny ways. At its core though, the story is about these three brothers that found each other. Sometimes we grow up with people who we don't have much in common with and we set on a journey into life and find our family. That's what our bears had to do. They were orphans and along the way found each other and discovered that they are stronger together.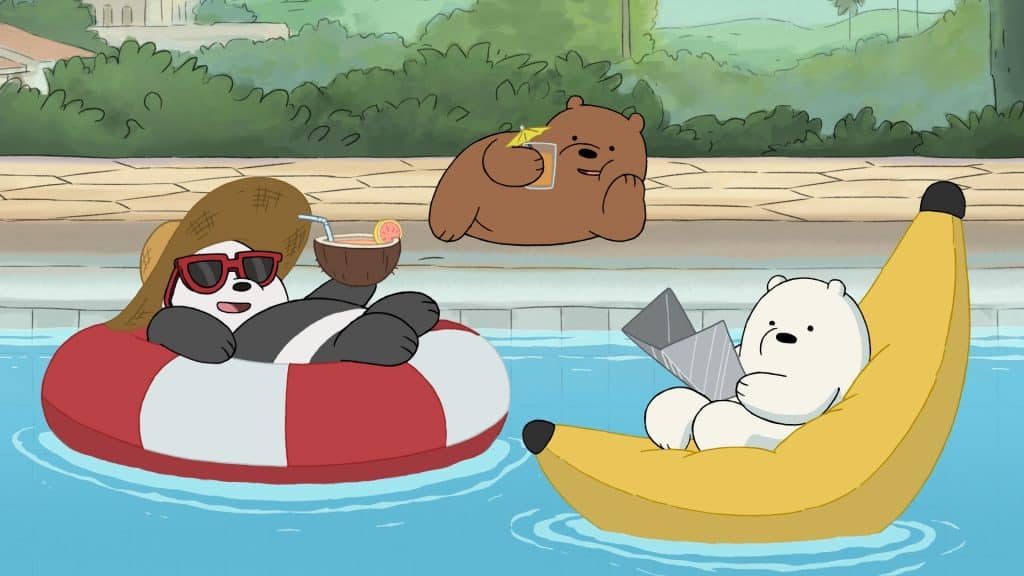 Q: Tell us about the premise of the movie.
DC: We wanted to test the relationship of the brothers by putting them in a situation that would question their brotherhood. The bears ask themselves: we don't even look alike, why do we call ourselves brothers? We also wanted to explore questions that in an animated show you can get away with, like why the bears live among humans, who allowed this to happen and why is it normal? We're poking holes in this cartoon logic and that is the premise of the movie. We're also using it as a metaphor for racism and how we treat people that look different than us, which was always in the DNA of the show.
Q: How is the movie different to the series?
DC: There are higher stakes and a bigger adventure. With a movie you can get more emotion out of your characters than you ever could in an episode. It can't be structured like regular episodes where one ends and another one starts from ground zero. In a movie, you need the world to evolve and change. Those things are a little different, but generally it should still feel like the show.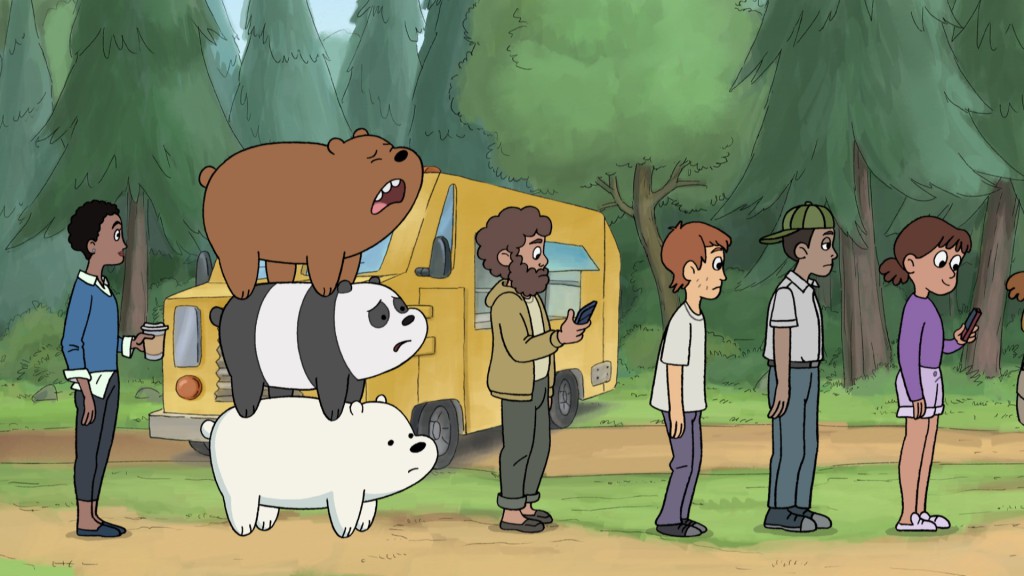 Q: What is the message at the heart of the movie?
DC: For me, being a minority in the America, the Bears were always a reflection of how I felt as an outsider. The bigger idea here was that everybody is looking for empathy and for a way to fit in. For kids especially it's important to see these things, to grow up to be decent human beings. Our crew was very passionate about this and we wanted to talk about it.
Q: What did the process of making the movie look like?
DC: We had a similar process to making our show, where we create an outline but don't write all the dialogue. We give it to storyboard artists, and they put their stamp on the
scenes. Often, they merge the visuals with the writing, creating a great improvisational aspect to the show. For example, there was a big natural disaster that happens in the movie and lots of action as they fight the main villain. Giant set pieces like this can be very hard to write, but having visuals artists contribute to the writing help make things feel more fluid and natural.
Q: Where did the idea of the viral animals come from?
DC: We referenced internet animals here and there throughout the show. The movie was an opportunity to go further into their world and get to know their personalities. They gave the bears a sense of the life they could have. We had our story artists research as many viral animals as we could and every animal in that internet rave party is a real animal that's on the internet (or some version of it)! Hopefully people will have fun identifying them.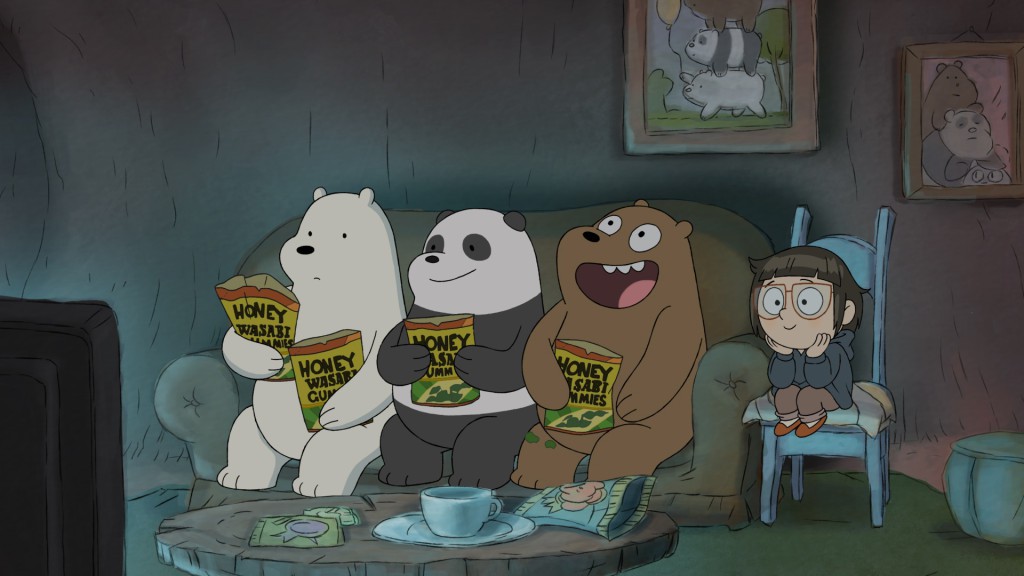 Q: Which one of the three bears do you connect with the most?
DC: They're all me! Grizz is me when I'm running the show and I have to be a leader. Panda is the closest to me, more introverted, as most creative people are. As much as we want to be Grizz or Ice Bear, we're all Pandas! Ice Bear is me when I'm with my family- I'm the youngest and I might occasionally want to be the weirdo in the room. All three of them are versions of me, but Panda is probably the most aligned. He also inherited all my allergies and asthma! Poor guy.
Dus… allemaal kijken zaterdag 28 november 2020 naar de première van de Wat Beren Leren film op Cartoon Network! De film begint om 09.50 uur.